News and solutions from U-NICA, experts in brand value protection
A snapshot on the situation
According to a news article issued on March 18th, 2019 by the EUIPO and OECD, it can be concluded that despite a period of relative slowdown of global trade, the relative share of trade in counterfeit and pirated products has grown significantly, by approximately 32%, compared with its share three years ago. The share for the respective period of consideration has reached EUR 460 billion, an estimated 3.3% of the global trade in goods.
For Europe the picture is even worse, as the share of trade into Europe of counterfeit and pirated products has reached 6.8%, an estimated trade volume of EUR 121 billion; a growth of crime-driven trade of 36% in roughly three years.
While these numbers represent only the relative volume of trade in counterfeit and pirated products, the estimate for the global damage through counterfeiting (trade, slavery, death, losses in taxes, loss of investments, slowdown of innovation, and more) has reached an estimated USD 2,2 trillion worldwide. To understand the magnitude of the damage, according to Teresa Moreira, UNCTAD's Head of competition and consumer policies, soon less than 8 countries have a larger GDP.
Gross domestic product ranked by Country 2019:
What are the countries with the largest economies in the world? Here is a list of the top ten countries with the highest GDP:
Without a doubt, counterfeiting and piracy are on the rise and pose a growing - although already significant - risk to intellectual property in a knowledge-based, globalised economy.
U-NICA Protection Circle®: One holistic approach.
'Fast Moving Consumer Goods' (FMCG); brands with products of short shelf-life, are undergoing a significant change due to shifting consumer habits. The increasing use of e-commerce by consumers and the desire for direct-brand services are changing the FMCG distribution channels.
These changes occur in parallel with increasing risks to FMCG brands, such as counterfeiting and grey market or parallel imports.
Patent protection remains key in protecting FMCG companies' rights; however, the long lead-times to obtain legal gains are in contradiction with the short shelf-life cycle and continuously reduced time-to-market. While litigation and patent infringement might be legally enforced, the product may already be obsolete. In addition, brand protection is a challenge with increased cross-border trade and online counterfeits.
While parallel imported products often do not represent the same level of danger to consumers that counterfeit products do, they can still be an issue for brands. Grey market goods may not comply with government impositions on labelling, advertising or even composition.
The FMCG industry has a long history of growth through major brands, but brand image damage through the trade of counterfeit goods is a growing concern.
Major FMCG companies have introduced digital brand protection features and although counterfeiters have faced difficulties due to these packaging solutions, a key strategy needs to attack and hinder counterfeiters continuously by utilising evolving and flexible brand protection solutions. We therefore do not regard brand protection as a one-off effort.
The totality of the measures must be continuously carried out, monitored and maintained. In the beginning, product authentication often does not focus on the associated effect of protection, but rather on obtaining clarity about the situation.
Based on our understanding of brand protection, our task is to apply the appropriate technologies to authenticate products, collect and prepare market data, gain illuminating insights, and support the legal work in building a case with the appropriate tools.
This process is iterative and starts with measures in a silent or concealed mode, then, at the latest following the conduct of a raid on the market, it becomes known that the company in question is defending its trademark or associated rights.
The fact that this first step becomes known communicates to counterfeiters that measures have been taken to protect the product in question against piracy. This inevitably increases the risk of selling counterfeit goods for potential counterfeiters, which usually already results in a decrease in the number of counterfeits on the market for the product or brand under observation. The task of a company that focuses on brand value protection must therefore be the continuous protection of the brand owner, the relevant supplier network, its connections and the growing inclusion of specific areas endangered.
In order to achieve this, an open, framework-based brand value protection solution is required to integrate different technologies and tools. At the same time the framework-based solution needs to be open to be supplemented with appropriate, new technologies, tools, methods and processes. This is the core to execute a lasting, holistic brand value and product protection strategy.
The U-NICA Protection Circle© combines strategy, technology, integration & communication, operation and intelligence in one holistic approach.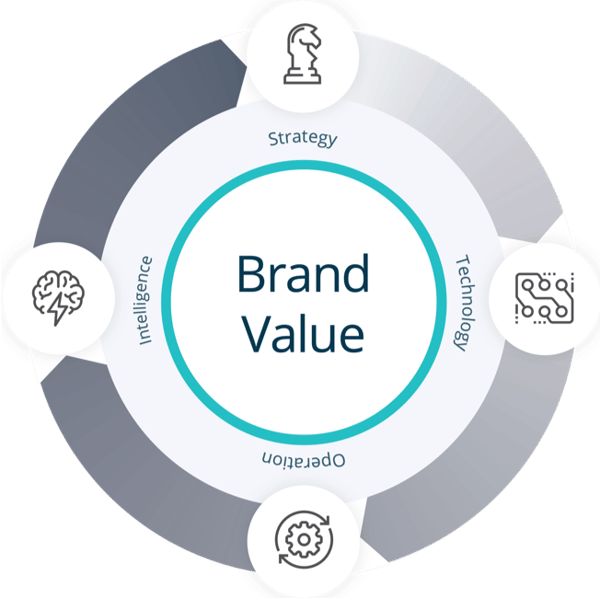 Define Company Strategy
Select Appropriate Technology
Secure Operations
Gather Intelligence
Smartphones could prove crucial in the bid to stem the flow of fake consumer goods available online
Fears are growing that the internet is becoming the key outlet for fake consumer goods distribution that is becoming increasingly difficult to track and cease. Associated with this is the increased fear of the threatening through both the loss of reputation for the brand owner and online retailer as well as of the endangered safety for consumers.
"Consumers are the prime target of companies selling fake products online under the guise of legitimate brands," says Alexander Rüegg, Chief Executive Officer for U-NICA.
For several years, industry experts have recommended that the onus is on retailers to double-check their supply chains to stop the flow of illegal goods.
According to U-NICA, however, the effort could also be aided greatly by helping consumers to 'help themselves' by performing their own verification via apps on their smartphones.
With U-NICA's scryptoTRACE® app, it is now possible for consumers to verify products themselves with their own device, rather than relying on a staff member or enforcement official with a specialised reader. There are no costs for the user, and the products can be verified from anywhere in the world and at any time, even where there is no Internet connectivity available.
"The knock-on effect throughout the supply chain could be huge," says Rüegg. "If consumers have the power to identify counterfeit goods at the point of sale, then pressure is applied backwards through the distribution chain. Now companies can be supported by a global enforcement team of 1.9 billion consumers armed with smartphones. The customers needn't even know they are involved – they could be taking photos of products as part of a loyalty campaign or competition, for example. Soon, this could become the biggest deterrent against counterfeiters worldwide."
BENEFITS OF SMARTPHONE VERIFICATION
Track grey market activity and get real-time insight into the extent of grey market activity

Easy-to-use smartphone app that can verify products on and offline

Get real-time reporting and insights to track the movement of authentic and counterfeit goods

Intensify customer engagement with promotional activity and marketing campaigns used in conjunction with the app

Uncover actionable insights over how to adapt your brand protection initiative and use resources more effectively
The smarter way to verify FMCG products: scryptoTRACE®
scryptoTRACE® is a breakthrough product verification app that enables consumer goods businesses to empower anyone with a smartphone or tablet to check the authenticity of products, even if their device is offline.
The app scans for unique product markers invisible to the naked eye and enables instant verification anywhere around the world.
Researchers, inspectors or consumers can verify products and collect vital data including user, date, time and location (GEO-tag).
All this enables consumer good companies to empower people to quickly identify fake products. Companies can also carry out detailed analyses and evaluations of their brand protection and anti-counterfeit programs because all data gathered are transmitted automatically to the central scryptoTRACE® server. With powerful new insights into the movement of products and key hotspot areas, companies can take appropriate mitigative steps, share information with enforcement agencies, and gain greater control over brand protection measures.
Find out more about scryptoTRACE® and how it can help consumer goods companies find a new edge in the battle against counterfeiting by visiting our homepage.
Do you have questions about Future Product and Packaging Design in the Industry FMCG - Fast Moving Consumer Goods? Get in touch with us: