According to OECD.org, the percentage of fake goods comprises of about 3.3% of the global trade arena. This percentage is only increasing as OECD.org reports that in 2013 the percentage of fake goods in the world trade was about 2.5%. They go on to report that the United States is one of the top countries affected by counterfeit products as fake goods are about 24% of trade. After the United States, many countries in the European Union are deeply affected such as France, Italy, Switzerland, and Germany. However, growing countries such as Brazil and China are also seeing a rise in counterfeit goods among their imports.
Digital Security Labels are fighting counterfeiters one product box at a time
Many counterfeiters target clothing and footwear, especially those household name brands, but they also fake pharmaceutical products. No matter the product or industry, if something can be easily counterfeited for a profit, they will do it. This is where U-NICA comes in with their new Digital Security Label (DSL).
The DSL is a tamper-proof adhesive label that can be placed on any type of packaging and product so the company does not have to change their manufacturing materials and procedure. On top of its universal implementation, the DSL can also be custom-made to fit the specific container or product shape. The usage of the DSL is simple as customers only need to download the DSL reader app. This app allows the customer to check the authenticity right from their smartphones; thereby, removing any need of specialized equipment.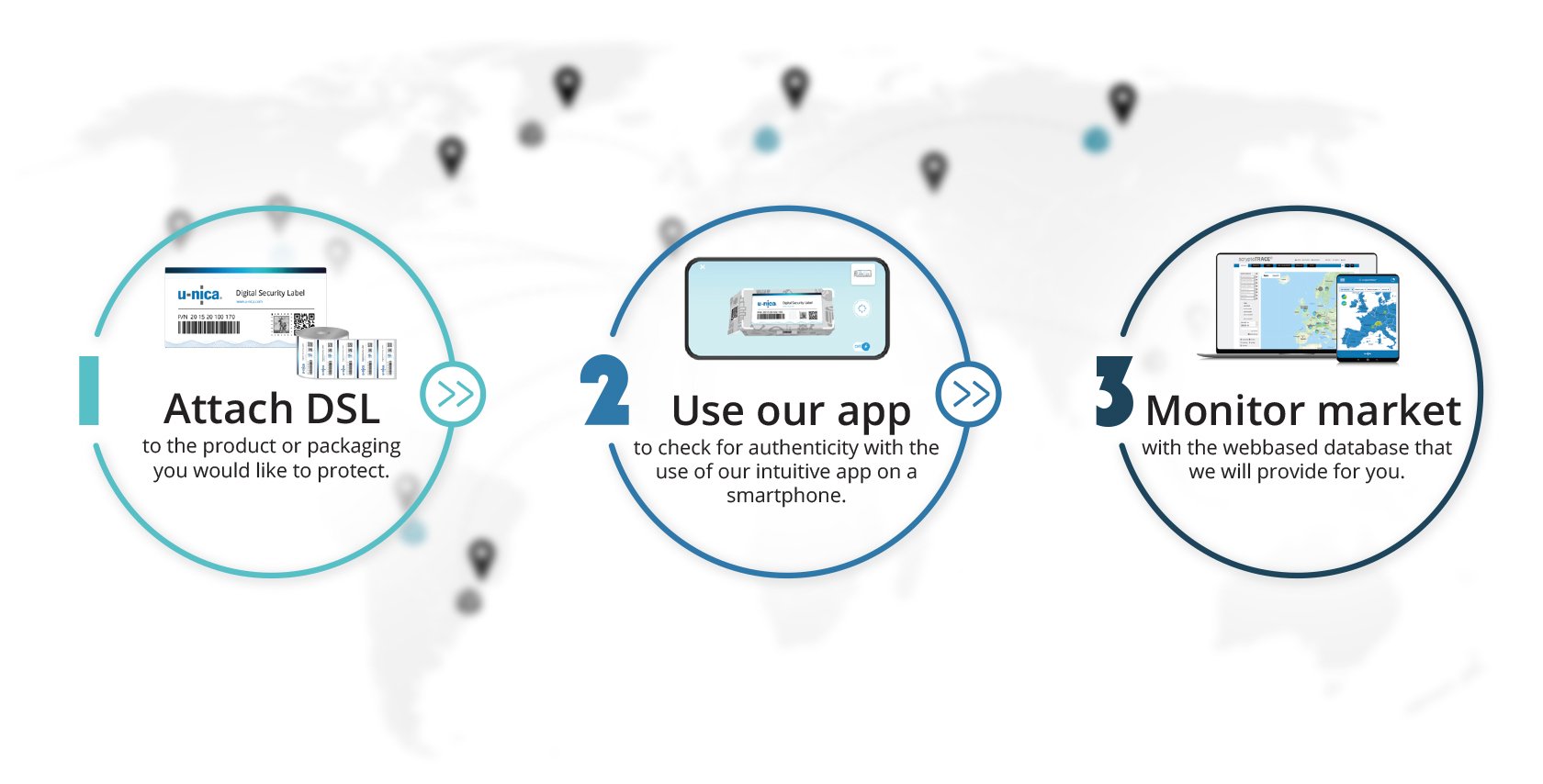 Keep an eye on the market
The blatant truth is that there will always be counterfeiters looking to fake goods and products; however, another truth is that the best protection possible is consistently monitoring the market and taking the required steps to dissuade counterfeiters. The DSL reader app not only verifies the authenticity of the product, but it also stores important information in the cloud to help the company keep track of their goods.
Within the cloud, each company has its own database and analytic tool so there is never any mixing of information. From the dashboard, information such as how often a particular package was scanned and from where can be seen and all of it can be downloaded into a CVS file for future investigations.
Reports such as those from OECD.org will never go down to 0 percent, unfortunately; however, with U-NICA's Digital Security Label, it can help your company avoid being part of the statistics allowing you to maintain your brand and product reputation.
Get Started Today
At U-NICA, we enable our customers to fight against counterfeits, protect their products and brand values, and maintain trust in their brand. We have solutions for a variety of industries from pharmaceuticals to automotive and electronics to fashion and food.
Contact us today to learn about strengthening your brand with the proper protection.