Counterfeiting has been steadily rising for the past decade, causing damage to both businesses and global economies. As a result, governments are ramping up their efforts to detect and seize counterfeit goods before they enter the consumer market. US Customs and Border Protection seized a whopping $1 billion worth of fake items in 2022, a 38% increase over the previous year. According to CBP, the majority of these counterfeit goods came from China.
Companies work hard to guarantee the authenticity of their products, which helps secure trust in their brand and consumer safety. Governments work hard to prevent the distribution of fake goods, and take legal actions whenever possible against criminal counterfeiting operations. Here are 5 of the most interesting counterfeit goods seizures in 2022.
40 tons of counterfeit cigarettes seized in the Paris and Marseilles regions of France
In March, 2022 French customs arrested two suspected members of a criminal gang that was smuggling counterfeit cigarettes from Asia to Europe. Police determined that illegal activities were being conducted by an international criminal organization operating from Asia. This organization shipped counterfeit cigarettes by container from the Caribbean, Middle East and Africa by impersonating the names of importers. The commercialization of these cigarettes in France would have led to a tax loss of an estimated 15 million EUR.
Counterfeit cigarettes can contain all types of toxic ingredients including dead insects and whitefly eggs that, once inhaled, become a chronic parasite in humans, and can damage the nervous system or even lead to necrosis of the brain. Fake cigarettes can also contain up to 5 times the concentration of cancer causing agents as compared to real cigarettes.
2,022 designer items seized in a massive counterfeit goods scheme in Warren, MI, USA
In May, 2022 Warren police began investigating reports of fake goods being sold at the County Line Trade Center. Undercover officers monitored 4 of the trade center kiosks suspected of selling counterfeit goods, and even purchased fake designer items that looked authentic, including a Louis Vuitton purse valued at $1,000. Other brand labels being mimicked included Gucci, Versace, Chanel, Coach, Armani, Ferragamo, and Ray-Ban.
Warren police executed search warrants for all 4 kiosks, as well as 2 residences. They found counterfeit merchandise stacked from the floor to the ceiling in each of the homes, and over $100,000 cash. As a result of the investigation, 7 total people were arrested, including a mother and son duo, a husband and wife, and 3 senior citizens. Each of the 7 participants in this counterfeiting scheme was charged with possession with intent to deliver counterfeit property, a 5-year felony.
165,707 pairs of fake diabetic socks seized in Norfolk, VA, USA
In July, 2022 US Customs and Border Protection foiled an effort to ship fake socks into the Washington area. Had these socks been authentic, they would have been appraised at a retail price of about $2.6 million. According to CBP, these counterfeit cotton diabetic socks could put consumer safety at risk. Real diabetic socks are non-elastic to reduce pressure and swelling, eliminate friction that can cause discomfort, and keep the patient's foot dry. The fake diabetic socks violated the Cotton seal trademark and would not have been up to the required safety standards.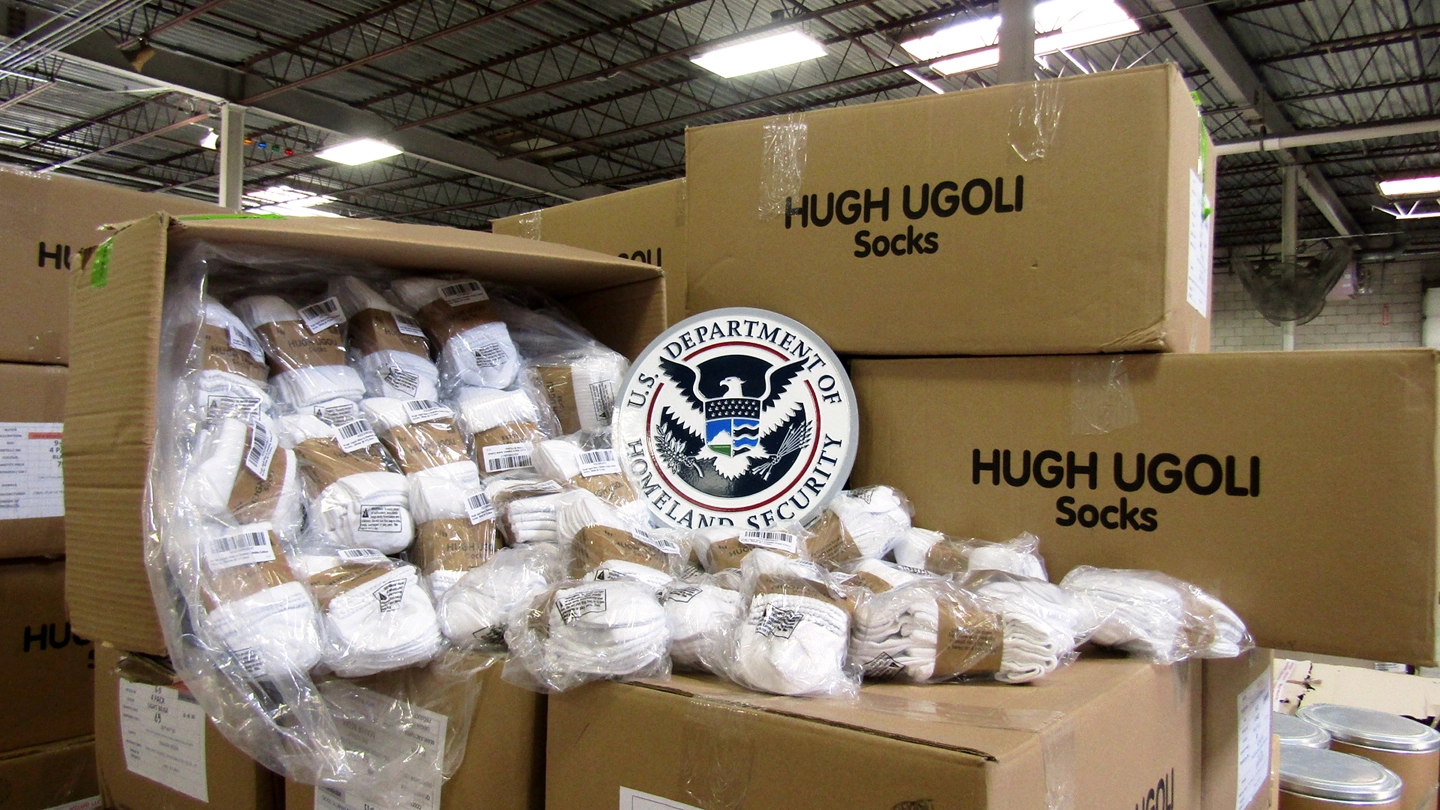 9,000 fake products seized by a consumer electronics company in New Delhi, India
In September, 2022 consumer electronics firm Xiaomi reported having already seized fake products worth more than 7.38 million rupees since the beginning of the year. Business owners in India are concerned because counterfeit electronics sales are rising, and there are no adequate measures in place to prevent the sale of these fakes. Xiaomi reported a heavy piracy of products such as earphones, chargers, adaptors and USB cables.
The president of Xiaomi India stated that counterfeit electronics are being sold not only by vendors in major city centers, but also on websites and on e-commerce platforms. A research analyst at TechARC, a company that provides insights on technology trends, said it is easy to fake wearable and hearable electronic devices. Furthermore, he stated that it is difficult to track or authenticate cheap electronic accessories, which make up the bulk of the Indian market.
Dangerous fake shoes seized in the port of Genoa, Italy
In October, 2022 Italian tax police discovered a trail of fake goods from China valued at over 4 million euros being handled by various criminal gangs. As part of the "False Step" anti-fraud operation, police seized over 155,000 counterfeit products, some of which contained substances harmful to consumers.
Customs agency chemists analyzed fake shoes and determined that they contained phthalate, a group of chemicals used to make plastics and artificial leathers more durable. The concentration of this toxic substance was 1,500 times the legal limit set by the EU. Researchers have linked phthalate exposure to asthma, breast cancer, obesity, diabetes, fertility issues, and other serious health disorders.
Solutions
Brands that want to thoroughly protect their products from being counterfeited should contact U-NICA today. There is no limit as to what type of goods criminals can counterfeit, so all types of businesses should take a close look at their anti-counterfeiting measures. U-NICA employs advanced technology to offer product protection solutions that are easily accessible through a smartphone. Don't risk losing valuable customers and tons of money to counterfeiting. Speak with one of U-NICA's experts about implementing a scalable brand protection strategy specifically tailored for your business.