Statistics on the global counterfeit drug trade are alarming, but with the right measures in place, pharmaceutical companies can help stop these illegal activities.

Counterfeit drugs or medicine are some that are deliberately and fraudulently mislabeled to hide their identity and/or source according to the World Health Organization (WHO). These products are created with the specific intent to deceive consumers.
Unfortunately, fraudulent medications can be harmful to patients, sometimes resulting an even worse condition or, tragically, death. In addition to these adverse health effects, they put the brand reputation of pharmaceutical companies in danger.
Further still, these illegal funds are often used to finance other fraudulent activities and counterfeit drug production or even terrorist activities.
Let's look at some of the most troublesome counterfeit drug statistics and the measures that can be taken to counteract those illegal activities.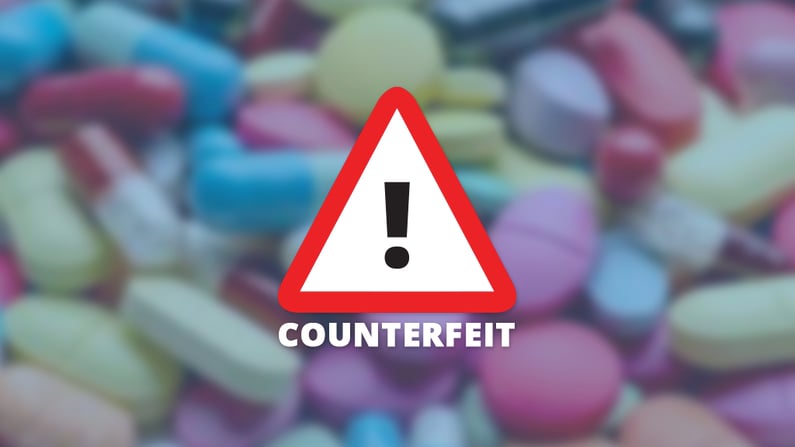 Counterfeit Drug Statistics You Need to Know
According to a report from the Partnership for Safe Medicines, in the U.S. alone, as many as 19 million consumers are buying medications outside of the safe drug supply, whether from online pharmacies outside the legal jurisdiction of their government or other unlicensed sources. Since 2012, smugglers have been caught selling 63 different medications to over 3,000 doctors, clinics and hospitals across the country. These drugs claim to help arthritis, Crohn's disease, infertility, cancer, migraines and other ailments.
Counterfeit versions of more than 80 drugs have been confirmed in over 110 countries, according to Pfizer. Hundreds of thousands of people die from taking fake medicines each year.
Data from the National Association of Boards of Pharmacy (NABP) reveals that in 2018, out of 11,943 internet drug sellers, 94.8% were non-compliant and listed as "not recommended." The majority of these sites (89%) did not require a valid prescription, which is one of the many signs that a pharmacy is not legitimate.
Against those challenges, what measures can pharmaceutical companies take to protect their interests and reduce drug counterfeiting?
Reducing Counterfeit Drugs in the Pharmaceutical Industry
Pharmaceutical companies might be looking at all those statistics with little to no hope; however, with some barriers against counterfeiting, those statistics will not increase. If anything, they could decrease.
Here are 3 ways the pharmaceutical industry can protect their patients, their products, and their brand.
Raise Awareness
Pharmaceutical companies are tasked with educating their consumer base about the risks of counterfeit medicines and how to watch out for scams, including when scammers try to imitate government agencies or when online illegitimate pharmacies offer low prices that seem appealing to low-income patients.
Make sure you're also checking-in with associations and large organizations that are alerted to counterfeit drug incidents. The Food and Drug Administration (FDA) has a Counterfeit Alert Network that notifies network members anytime there are reports of fake medicine. This helps spread the word to the community at large, including consumers and healthcare professionals.
Legitimate drugs can only be purchased online by pharmacies that have been certified by the NABP, which can be confirmed by the Verified Internet Pharmacy Practice Sites (VIPPS™) program certification on their website.
Focus on Drug Supply Chain Integrity
Counterfeiting is just one threat that penetrates the global drug supply chain. But it is no small matter, every company in the industry needs to be aware of the risks and the best practices to avoid them.
FDA Initiatives
There are several FDA initiatives that combat supply chain issues including:
BeSafeRx

Know Your Source: Protecting Patients from Unsafe Drugs

Sending letters to doctors who may have purchased counterfeit or unapproved prescription drugs

A system for people to report any problems or suspected issues to the administratio

n
However, relying on one government entity only gets so far and often companies need to enact their own product and brand protection security to combat counterfeiting.
Implementation

of

a Proper Supply Chain Security System
Effective supply chain security in the pharmaceutical industry requires multiple layers of protection. Techniques for adequate detection, and response must all be included in the strategy in order to address each and every area of vulnerability.
Employees at each stage of the supply chain need to be in constant communication; for example, products should be scanned throughout the distribution process, from the manufacturing to the sale.
Product Protection for Pharmaceutical Companies
Companies that manufacture and sell drugs should also take steps to protect their individual products as well as their brands. Using a product protection tool that allows for instant label scanning for fast and easy authentication is one way to implement pharmaceutical anti-counterfeiting tactics. An additional way is to create labels that are very difficult, if not impossible, to imitate.
The U-NICA Product Protection Solution
The product protection solution from U-NICA also incorporates brand value protection, which is important to maintain a pharmaceutical company's reputation as a trusted source of approved medicines. Our scryptoTRACE® solution combines these two concepts, since one strategy on its own isn't enough.
Our smartphone app allows both consumers and brand agents to scan products to complete the authentication process and identify counterfeit drugs instantly. This real-time data is sent to the app and the cloud to help teams plan for the future.
To implement scryptoTRACE® as part of your brand value and product protection plan or to learn more about how U-NICA can protect your company, contact us today.